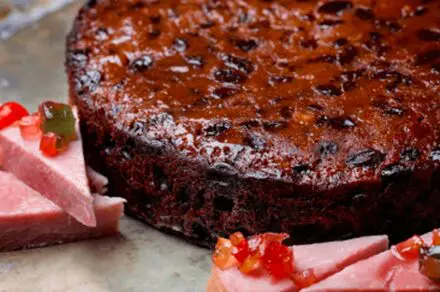 Make Ahead: The fruit should soak for at least 30 days. (Or follow quick-soak directions; see NOTES.) The cake can be wrapped and stored in a cool, dry place for up to 6 months (with periodic brushing; see below) or frozen for up to 6 months.
Where to Buy: Liquid burnt sugar, which tastes like a cross between molasses and caramel, is an ingredient often found in Caribbean recipes and can be purchased online or at Caribbean grocery stores. Mincemeat is a blend of raisins, apples and spices, and is traditionally made with beef suet and brandy. Vegetarian versions can be found online and in stores.
You'll need a 9-inch round cake pan with sides at least 2 inches high.
16 servings
INGREDIENTS
1 cup flour
1 teaspoon baking powder
1/3 teaspoon baking soda
2/3 teaspoon ground cinnamon
1/8 teaspoon freshly grated nutmeg
1/8 teaspoon ground allspice
1/8 teaspoon salt
2 1/2 tablespoons unsalted butter, at room temperature
2 tablespoons vegetable shortening
3/4 cup sugar
2 large eggs
2 tablespoons water
3/4 teaspoon liquid burnt sugar (see headnote)
2 teaspoons vanilla extract
3 cups prepared fruits (see NOTE)
1/2 cup mincemeat (with brandy; see headnote)
2 tablespoons rum, or more for long-term storage (see headnote)
2 tablespoons brandy, or more for long-term storage (see headnote)
---
DIRECTIONS
Preheat the oven to 325 degrees. Lightly grease the pan with baker's spray, then line the bottom with parchment paper. Preheat the oven to 325 degrees.
Sift together the flour, baking powder, baking soda, cinnamon, nutmeg, allspice and salt onto a sheet of parchment or wax paper.
Combine the butter, shortening and sugar in the bowl of an electric mixer; beat on medium speed for several minutes, until light and fluffy. Stop to scrape down the bowl.
Whisk the eggs in a separate bowl until evenly combined, adding the water gradually until well incorporated. Whisk in the liquid burnt sugar and vanilla extract.
Add the egg mixture to the butter-sugar mixture in the mixer bowl, then fold in the prepared fruits and their liquid, plus the mincemeat; this may be best to do by hand, because the mixture can be heavy and could potentially burn out the mixer motor. Add the flour mixture a quarter-cup at a time, combining thoroughly. A spoon should be able to stand up in the middle of the batter.
Spoon the batter into the cake pan and smooth the surface. Bake (middle rack) for 1 hour and 15 minutes, until a toothpick inserted into the center comes out clean; if that does not happen, reduce the temperature to 300 degrees and bake for an additional 10 minutes or until a toothpick comes out clean.
Let the cake cool in its pan for 1 hour.
Use a toothpick or wooden skewer to poke several holes in the top of the cake, then mix the brandy and rum together and pour on top of the cake. Remove the cake from the pan. The cake can be stored in an airtight container in a cool, dry place for up to 6 weeks; brush the top of the cake with 2 teaspoons of brandy or rum once a week to help keep it moist.
NOTE: To make the prepared fruits, combine 1 1/4 cups finely chopped Paradise Extra Fancy Fruit Cake Mix (candied fruits), 1 1/4 cups raisins, 1/2 cup currants, 1/4 cup rum, 2 tablespoons brandy and 2 tablespoons port in an airtight container. Allow the fruits to soak for at least 30 days. If unable to soak for a long period, place all ingredients in a saucepan and bring to a boil over medium-high heat, then reduce the heat to medium and cook for 15 minutes. Let cool to room temperature. This quick-cook mixture can be placed in an airtight container and stored in a cool, dark place for several weeks, until ready to use.