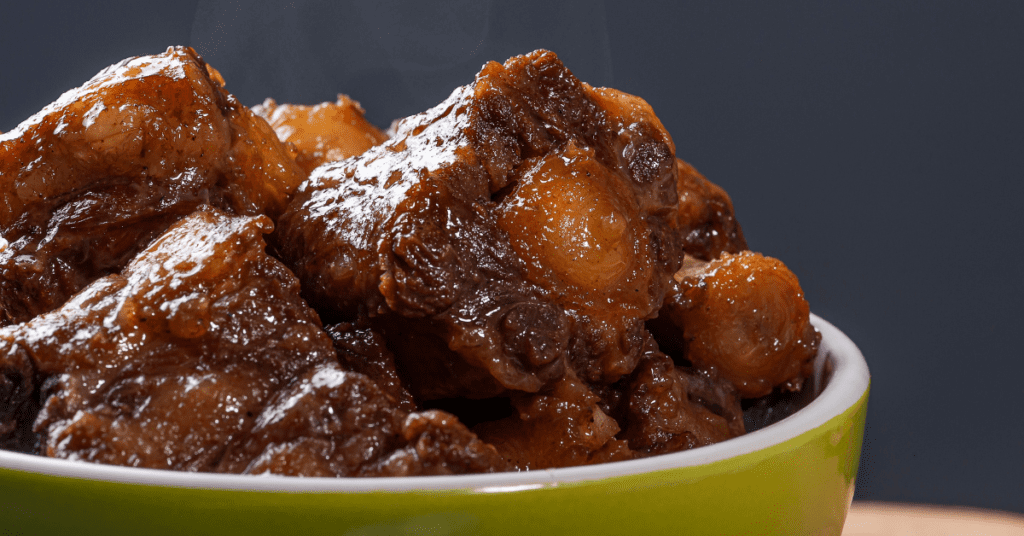 INGREDIENTS:
1 cup vinegar
1 cup cold water
4lbs oxtail, fat trimmed
2 teaspoons salt
1 teaspoon white pepper
2 tablespoons canola oil
2 large onions, small dice
1 large sweet green pepper, small dice
2 tablespoons tomato paste
6 garlic cloves, minced
1 tablespoon soy sauce
1 tablespoon Maggi sauce
1 tablespoon Worcestershire sauce
3 cups V8
1 tablespoon fresh thyme
2 bay leaf
INSTRUCTIONS
In a large bowl, combine vinegar and water and add oxtails. Allow oxtails to soak in vinegar mixture for 30 minutes. Discard vinegar mixture and rinse oxtails thoroughly in clean water. Adjust oven rack to middle position and heat oven to 350 degrees Fahrenheit.
Pat beef dry with paper towel and season with salt & pepper. Heat 1 tablespoon oil in Dutch oven over medium-high heat until smoking. Add half of the oxtails and cook until well browned on each side, 10 minutes per side. Transfer to a bowl. Add the remaining tablespoon of oil to Dutch oven, wait until smoking, and repeat the same process with the remaining oxtail.
Reduce heat to medium, add onions and peppers to the pot with the oil left in it and cook, stirring occasionally, until softened, 7 to 10 minutes. Add tomato paste and cook for another 2 to 3 minutes, stirring constantly. Add garlic, soy, Maggi, and Worcestershire sauces, V8, thyme, and bay leaf, scraping up any browned bits. Add browned oxtails with the accumulated juices to the pot, increase heat to medium-high and simmer for 10 minutes.
Cover pot and transfer to oven and bake for 3 hours, until fork tender, turning oxtails over halfway through cooking (at 1½ hours). Remove thyme and bay leaf and transfer oxtails to a platter and pour liquid through a fine mesh strainer and into a fat separator and let settle for 5 minutes. Return defatted juice back to Dutch oven and simmer over medium-low heat until reduced to about 1 cup, 5 to 10 minutes. Check for seasoning and add more salt & pepper, if needed. Pour sauce over oxtails and serve.