JULY 2022. ISSUE 6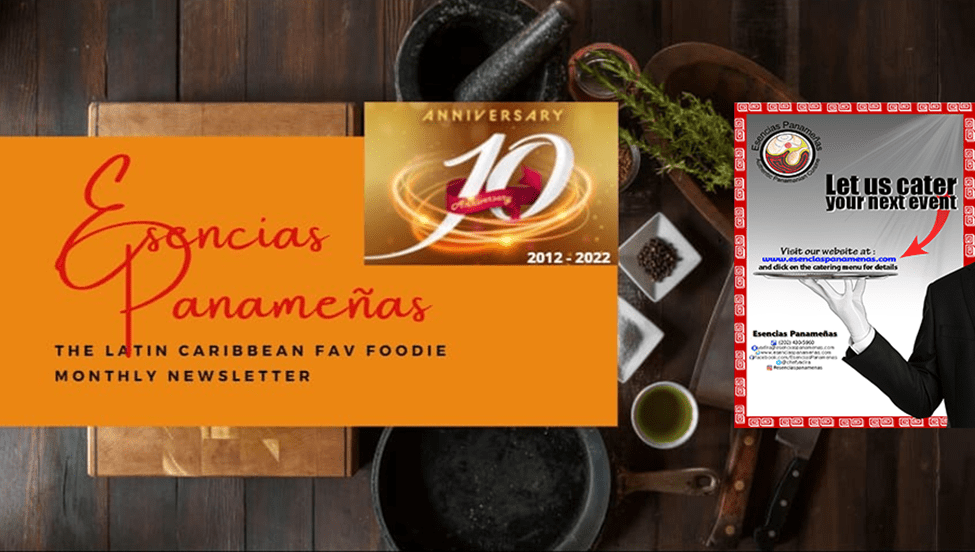 ---
Chef's Monthly Insight….
Food Sustainability
---
June was a great month for Esencias Panameñas. From receiving a business grant from the District of Columbia, to catering the Ovarian Cancer Gala, to holding a 2-day photoshoot of the entire Esencias Panamenas' menu in preparation for my upcoming cookbook (Fall 2022), to catering the Latino Smithsonian annual externship celebration, to being selected to participate in the James Beard Foundation Women Entrepreneurial Legacy (WEL) 2023 program, to finalizing my trip to Ukraine in July to work with World Central Kitchen (WCK) to prepare hot meals for the people.

Many have expressed concern with my travel to Ukraine. However, to me, being in the U.S. has become just as "unsafe" as being in Ukraine – the difference is bombs vs bullets. Whether sleeping in my bed, or eating ice cream while watching TV, or grocery shopping, or praising God in church, I am at risk of getting shot. So why not take the risk while helping the needy?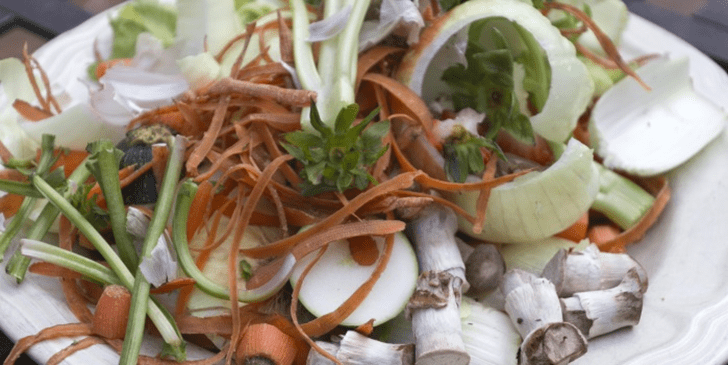 As a member of WCK, I am part of the communication distribution, and I am constantly reading that the main issue with providing nearly 1 million meals a day in Ukraine, is food shortage. That food shortage made me realize the amount of food that we waste every single day in the U.S. . . . which brings me to the topic I chose for this month – food sustainability.

Food sustainability is not just about the food itself. It is a combination of factors – how the food is produced, how it is distributed, how it is packaged, and how it is consumed. The term 'food sustainability' is one which has begun cropping up more and more in recent years. Although many people believe that food is natural and when thrown away it will decompose, this is typically not the case. 95% of food waste enters landfills, where it is piled up under pressure and creates methane.

Building a sustainable kitchen starts with reducing food waste. Food waste is a larger issue than most of us realize. New research suggests that 50% of all U.S. produce goes to waste in this country. This is partially due to poor distribution, our preference for "perfect" looking produce, and of course, the food that goes bad in our own kitchens. Simple efforts such as planning your meals, only buying the groceries you need, and figuring out ways to utilize leftover scraps can stop your household from spending extra money and creating unnecessary food waste.
How many times have you reached into your fridge produce drawer only to find a head of wilted lettuce or moldy strawberries? How about that rice that tastes rancid or those nuts you're not sure how long ago you bought it? Been there, done that. What I've found is that making sure my food is properly sealed in air-tight glass containers or vacuum sealed is the only way to preserve the food longer, so they don't go to waste. A vacuum seal machine is a must is a kitchen, since it is the best vehicle to store food. However, I also love using glass containers (e.g., locknlock) as an alternative, since they are non-porous, meaning, they keep stored food fresh for longer. In addition, they are convenient since you can freeze them, bake them, and even microwave them.

We need to be creative and find ways to use every part of fruits and veggies – from skin to root. Have you ever wondered why we chop off the top of celery or the greens from beets? Blame it on our fast-paced lives or our familiarity with certain parts of veggies that we are used to cooking with. If you cannot use the whole plant, then you should definitely consider composting. But if you are able to use the whole plant, then make it a point of using it all.

One of my favorite ways to reuse produce is to save my veggie scraps for juicing, or to make smoothies, or even veggie stock. I used to put the scraps in ziplock bags, but found the veggies got freezer burn and I'd end up having to compost them. So now, I either vacuum seal them or store them in glass containers and freeze them. By truly embracing a waste-not-want-not way of life, you will see big changes in both your grocery budget and your food waste. Simmering a batch of homemade vegetable broth is just the beginning. Here are more tempting ways to use it up, top to tip:
save coffee grinds for body scrub
use citrus peels for naturally scented candles
throw the broccoli stalk into your favorite salad or slaw
make pesto with leafy greens from beets/carrots
roast squash seeds
make corn jelly with corn cobs sweetened with sugar in a mason jar
juice the off cuts of your vegetables and fruits
pickle watermelon rind
instead of peeling potatoes, treat the skins as the favored part
It's Anniversary Trivia Time…..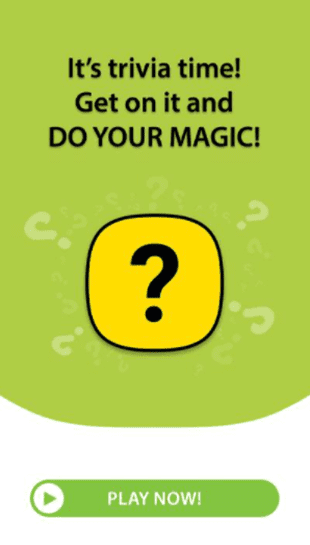 Esencias Panameñas will celebrate its 10th birthday in November 2022. In honor of this, we thought it would be fun to put together monthly Trivia quizzes to determine how much you know about Esencias Panameñas, its owner, and our dishes.
For the remaining 5 months (July thru November) we will continue to provide you with 5 questions each month, and each correct answer is worth 1 point. If you were to continue to play and answer all questions correctly, you could earn 45 points total. Players that have participated all 9 months will receive a prize. The player with the highest number of points will win the grand prize ($50 value).
June Answers:
Type of chile peppers used to make our "Picante Chombo" pepper sauce: Scotch Bonnet peppers
None "gluten free" fritura on Esencias Panamenas' menu: Hojaldas
Why do we need to add yeast when making bread: To make dough rise
Type of liquid used to marinade raw fish in Esencias Panamenas' ceviche: Fresh lime juice
Which carbohydrate is consumed most in Panama: Rice
If you are ready to take July's quiz
ASK Chef Yadira….
This is a new segment I began during the COVID pandemic. Many began spending more time in the kitchen, experiencing issues due to being in "unfamiliar territory". As a result, folks reached out and asked questions on the "what" and more frequently, the "why".
Note: this segment is not intended to ask me for recipes; it is just to share any problem(s) encountered while cooking/baking and ask for some guidance. Below is a question……….
QUESTION:
From Queen, in Los Angeles…
"It is difficult to find culantro where I live, so when a recipe calls for culantro I replace with cilantro, but it does not taste the same. If I don't have culantro, what should I replace it with?"
ANSWER:
Dear Queen,

Culantro is both a cooking and medicinal herb well known in Central America, the Caribbean, and the Far East. Here in the United States, outside of ethnic neighborhoods, it is not well known. Usually confused with Cilantro, found in many things Mexican, but they are not the same. Culantro has a more robust flavor, and unlike Cilantro, it isn't usually consumed raw. It is best used in cooking, to bring out the flavor of foods.
In Panama, Culantro is the key ingredient when making "Sancocho", which is our chicken soup broth that is used to "cure all ailments" (pa' revivi' al muerto). Blended with sweet green peppers, scallions, parley, celery, and onions make, a "recao verde" (green blend) that we us to marinade meats, cook beans, and make stews. If your recipe calls for Culantro and you cannot find it, then use a combination of parsley, scallion, and celery in its place, but DO NOT replace with Cilantro. Cilantro will change the flavor and overpower your dish.
Culantro can be found in many Asian, Hispanic, and Caribbean markets. Culantro is rich in iron, riboflavin, calcium, and carotene. Its leaves are an excellent source of vitamins A, B1, B2, and C. Culantro is an anti-inflammatory and contains large amounts of plant sterols, so it can help with asthma, arthritis, and swelling. Culantro tea can sooth earaches, stomachaches, and headaches. In some countries, culantro, is also called Fitweed because it is said to help prevent or sooth away epileptic fits.
To 'Ask Chef Yadira' a question, send email to:
To view previously 'Ask Chef Yadira' questions
Sharing One Of My Recipes With You…..
From Sweet To Savory And Everything In Between
Peaches (i.e., summer fruit) are in season, so how about a '2×1'!
FIZZY PEACH SHAKE and PEACH SALAD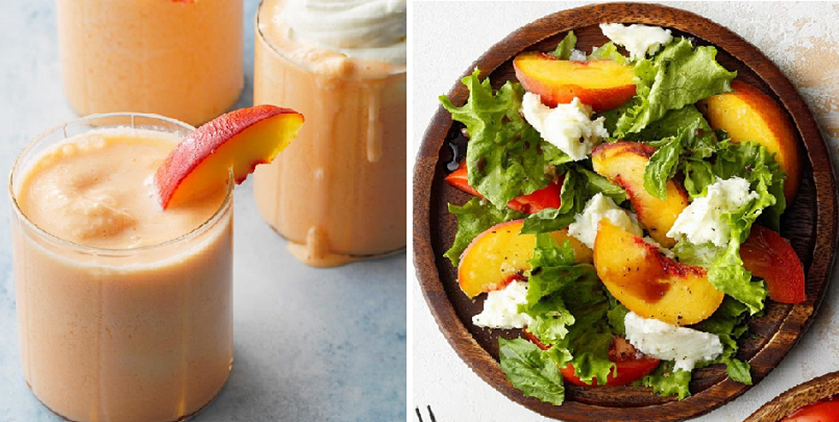 FIZZY PEACH SHAKE

INGREDIENTS
3 medium peaches, pitted
1/3 cup ginger ale, chilled
2 tablespoons honey (vegan sub.: Agave or Bee Free Honee)
1 quart vanilla ice cream (vegan sub.: vegan ice cream)
Whipped cream and sliced peaches, for garnish
Ginger ale for topping (optional)
PROCEDURE
Place peaches, ginger ale, and honey in a blender. Cover and process for about 1 minute until smooth
Add ice cream; cover and process for 10 seconds until combined. Pour into serving glasses
Top with whipped cream or additional ginger ale, if desired, and garnish with peach slices
PEACH SALAD
INGREDIENTS
1 medium peach, cut into wedges
2 cups leaf lettuce, chopped
1 large heirloom tomato, cut into wedges
4 ounces fresh buffalo mozzarella cheese (vegan sub.: dairy-free mozzarella)
1/2 cup loosely packed basil leaves, sliced in ribbons
2 tablespoons olive oil
1 tablespoon balsamic vinegar
1/4 teaspoon salt (or to taste)
1/8 teaspoon pepper (or to taste)
PROCEDURE
Arrange lettuce, peach wedges, tomato wedges, and basil on a platter. Tear mozzarella into bite-size pieces and place on top of the salad
Drizzle with olive oil and vinegar
Sprinkle with salt and pepper
Culinary Humor . . .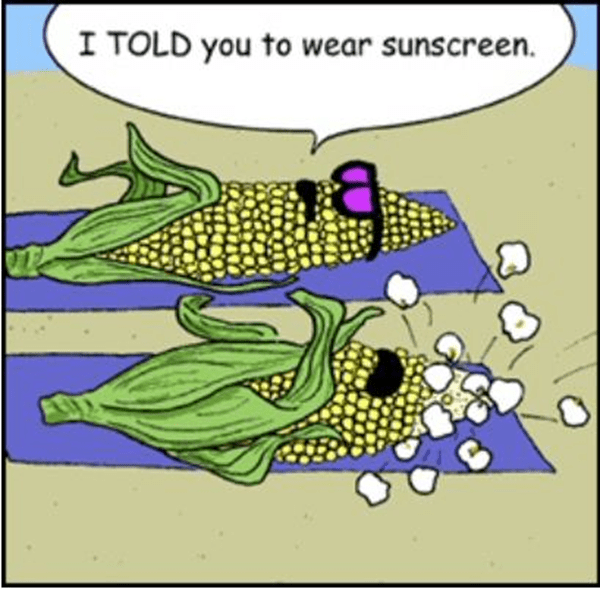 Tricos y Trucos…
This month's Tip: What to do with leftover Ice Cream:

You are cleaning out the freezer and found ice cream that has been there for God knows how long. Wait – don't throw it out! How about making Bread?

Leave the ice cream out on the counter until it melts. Measure the amount of the liquid and add 3/4 cups of self-rising flour for every 1 cup of melted ice cream. Mix both ingredients together and place in a buttered loaf pan and bake for 40-45 minutes at 350 degrees. Insert a toothpick and make sure if comes out clean.

NOTE: if you do not have self-rising flour, then substitute with 3/4 cup all-purpose flour, 1-1/4 teaspoons baking powder, and 1/4 teaspoon salt

If you are not into baking, then how about making French toast? Soak the slices of bread in the melted ice cream. Place onto a skillet or griddle and cook on each side until desired brownness. Serve with butter and maple syrup.
To view more Tips & Tricks
My Life This Month…
What I am Watching
CHOPPED – Desperately Seeking Sous-Chef
Supermarket Stakeout
What I am Reading
Woman to Woman: From Sabotage to Support, by Judith Briles
What I am Working On
Esencias Panameñas Cookbook (to be published in the Fall 2022)
How Do I Make a Difference
Traveling to Ukraine to work with Jose Andres' World Central Kitchen (WCK)
Testimonials….
"Hi Yadira! Everything was lovely. Your food was definitely a favorite of our students this year just as every other year. We're so thankful for your food and your help in getting the drinks. Thank you……"

DayannaR
Smithsonian
National Museum of the American Latino
Washington, DC
Subscribe….