SEPTEMBER 2022. ISSUE 8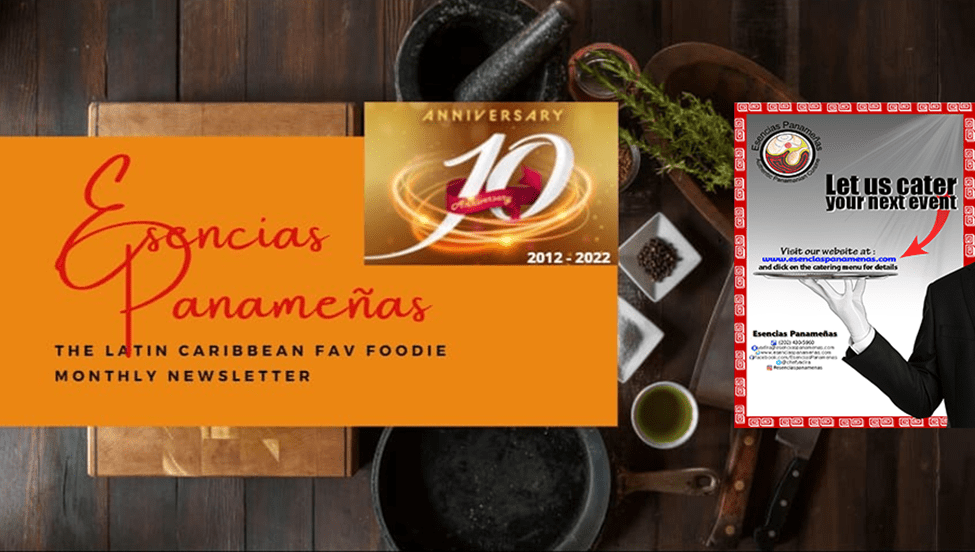 ---
Chef's Monthly Insight….
HISPANIC HERITAGE (HERENCIA HISPANA)
September 15, 2022, to October 15, 2022
---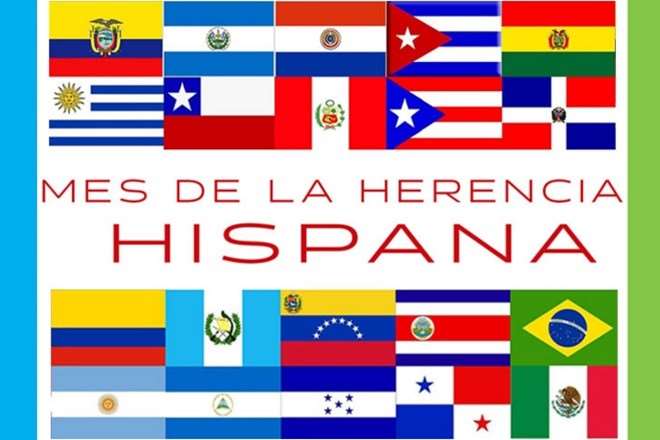 Americans celebrate National Hispanic Heritage Month from September 15th through October 15th. They celebrate the stories, cultures, and contributions of American citizens whose ancestors came from Central & South America, the Caribbean, Mexico, and Spain.

The observance first began in 1968, as Hispanic Heritage Week, under President Lyndon Johnson. Years later, President Ronald Reagan proposed extending this celebration into a month-long event. It was enacted into law_on August 17, 1988, officially designating the 30- day period starting on September 15th through October 15th as National Hispanic Heritage Month. September 15th is significant because it is the anniversary of the independence of some Latin American countries including Costa Rica, El Salvador, Guatemala, Honduras, and Nicaragua. Additionally, Mexico celebrates its independence on September 16th and Chile on September 18th. Columbus Day or Dfa de la Raza, which is October 12th, also falls within this 30-day period.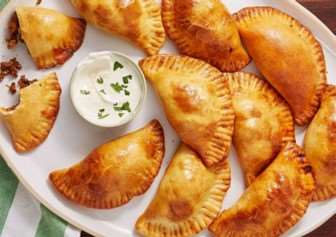 People use this celebration to show the importance of Hispanics in the U.S. by donating to Hispanic charities, eating food from any of the countries that are being celebrated, learning from their cultures, and honoring influential Hispanics who have made an impact on society.

Hispanic foods represent the rich cultures of many different countries. Many traditional meals are prepared as they have always been or adapted to a more acceptable American palate.

The foods ordered most of Esencias Panameñas during Hispanic Heritage Month are Empanadas and Tres Leches cake.
It's Anniversary Trivia Time…..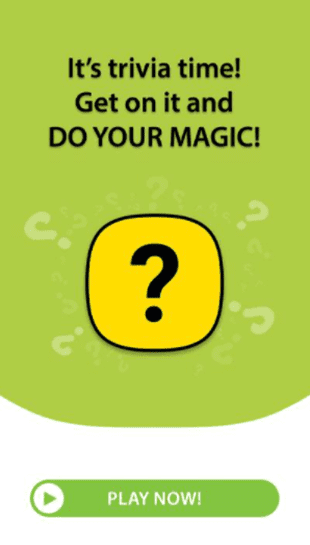 *** ONLY 3 MONTHS LEFT TO ANNOUNCE THE
GRAND PRIZE WINNER***
The top 6 participants with the highest scores:
Lilia Knight (22)
Thais Fergus (15)
Analissa Benedetti (14)
Vielka Downer (8)
Crystal Johnson /Angela Hope (6)
Esencias Panameñas will celebrate its 10th birthday in November 2022. In honor of this, we thought it would be fun to put together monthly Trivia quizzes to determine how much you know about Esencias Panameñas, its owner, and its dishes.

For the remaining 3 months (September thru November) we will continue to provide you with 5 questions each month, and each correct answer is worth 1 point. If you were to continue to play and answer all questions correctly, you could earn 45 points total. Players that have participated all 9 months will receive a prize. The player with the highest number of points will win the grand prize ($50 value).
August Answers:
When baking chicken, what is known to be the minimum safe internal temperature: 165 degrees Fahrenheit
Which method of cooking is recommended in order to retain the vitamins and minerals in vegetables: Steam in a small amount of water
Which country does Flan originate from: Rome
Main ingredient of Carimafiolas: Yuca
What is the most widely eaten meat in the world: Pork
If you are ready to take September's quiz
My Trip to Ukraine …
It's been 173 days since Russia escalated attacks on Ukraine, displacing millions of people, claiming tens of thousands of lives, and destroying thousands of buildings and entire communities. Some Ukrainians were able to flee, in fear for their lives, with just a bag of clothes in the middle of the night in cold, freezing temperatures; while others, mainly Seniors, people with disabilities, and those who don't own cars or don't have the means to escape, remain behind. And World Central Kitchen (WCK) committed to standing next to Ukrainians in the fight to feed the hungry.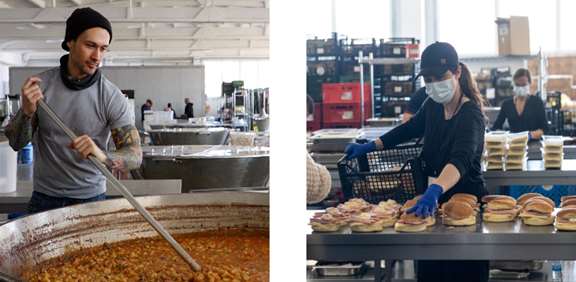 As part of the volunteer team, I helped prepare hundreds of thousands of hot, fresh meals each day, that were served to those that were close by and able to come by and pick them up. I also packed large grocery kits with ingredients to feed a family for about a week, which were loaded onto trucks to deliver to 1,000 cities and towns inside Ukraine, to people that are afraid to go outside, to make sure they have food.

The pots are humongous; some were large enough that I could lay in like a bed. It was impossible to use regular cooking utensils. Instead, we used paddles to stir the pots. In fact, some pots required several people to hold and stir. Pork is the main protein consumed by Ukrainians and fatback is in just about every dish, so my diet was limited. But they also eat lots of beets, potatoes, and beans. Their main soup is borscht – beet soup; they prepared vegan borscht, so I was able to try it, and I enjoyed it.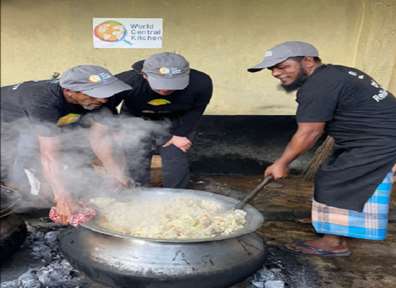 The guy on the right in the picture above is Tony. He was the only other person of color in the group I worked with. The guys were preparing sa/o and onions stew. Salo is cured fatback – one of the most important products of long-term storage, and one that was used in travels and during lunch on a workday, as a source of energy.

Sadly, winter is quickly approaching and the situation in Ukraine is only going to get worst. Damaged infrastructures have left many communities with no heat, no access to food, and in need of support. The government youth department has been working to cover broken windows with plywood. We were told that if one apartment has a broken window, the heating wouldn't work in the entire building.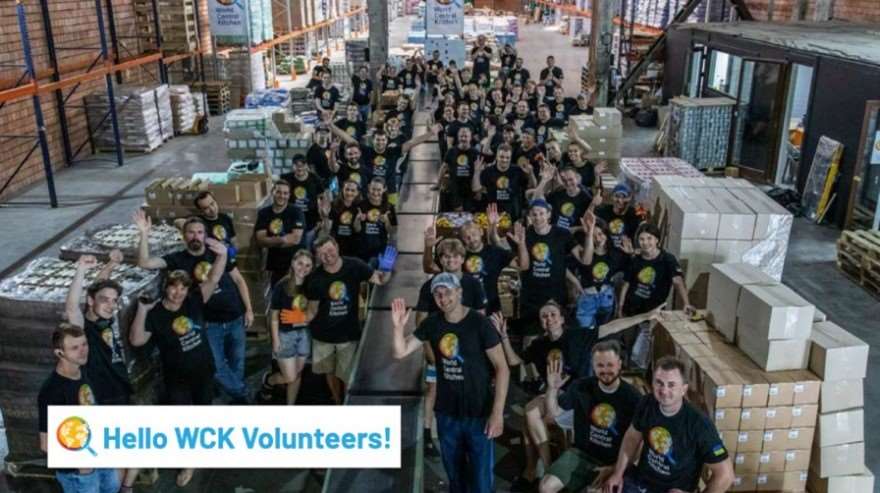 This is a picture of the WCK volunteer group I worked with in Ukraine, and the only picture I am in, since those who know me know that I shy away from the camera. But I agreed to be in this group photo since it is almost impossible to pick me out

Many thought I was crazy for making the trip; others thought I was courageous. I am neither! I just believe in paying it forward and helping whenever and however I can. But you do not have to join an organization to help others; neither do you have to travel abroad. You can channel the spirit of helping and bringing hope and dignity to your neighbors, one plate of food at a time, by:
volunteering at your local food pantry or kitchen,
cooking dinner for a neighbor that needs a little extra support,
donating to organizations such as WCK, Red Cross, and others, that help families in need worldwide, or
supporting your local restaurants and food businesses, such as Esencias Panameñas
From September 1st to December 31st, 10% of Esencias Panameñas' proceeds will go to WCK.
Please donate to World Central Kitchen – https://donate.wck.org/ to help them continue serving hundreds of thousands of meals to those in need every day.
What's New at Esencias Panameñas .. .
We are thrilled to announce the launch of our redesigned website, and there could not be a more perfect time to launch it than during our 10th Anniversary.
It is now live and located at the same address: https://esenciaspanamenas.com

NEW FEATURES INCLUDE:
Easier to navigate, improved security, and user-friendly layout to enhance your online experience
NEW MENU page for local Pickup/Delivery orders
NEW MENU page for Shippable orders to all 50 Unites States
Photos of all food items for purchase
NEW Shopping Cart and Checkout with FedEx shipping charges included for one­ single payment
NEW CATERING page for Full-Service Catering, including Catering Policy, Sample Catering Packages, and a Calendar to book a complimentary appointment to discuss your upcoming event
Improved blog page to include monthly Newsletters, Recipes, Ask Chef Yadira, and Tricos y Trucos
National Food Days in September …
September 1: National Gyro Day
September 5: National Cheese Pizza Day
September 9: National Wiener Schnitzel Day
September 12: National Chocolate Milkshake Day
September 15: National Linguine Day
September 16: National Guacamole Day — recipe to follow
September 18: National Cheeseburger Day
September 22: National Ice Cream Cone Day
September 23: National Key Lime Pie Day
September 25: National Lobster Day
September 26: National Pancake Day
September 28: National Drink Beer Day
September 29: National Coffee Day — recipe to follow
Sharing One Of My Recipes With You…..
From Sweet To Savory And Everything In Between
September 16th is National Guacamole Day, so this is my Guacamole with a Panamanian
twist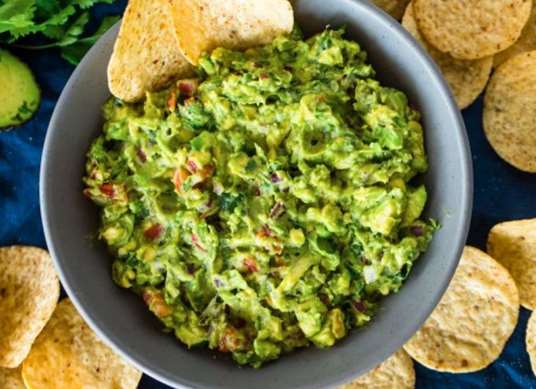 INGREDIENTS
3 ripe avocados
2 ears corn, kernels cut from the cob
1 medium batata or camote (Latin America sweet potato) — see note below*
2 limes, juiced
1 small red onion, finely diced
2 plum tomatoes, seeds removed, small diced
6 culantro (not cilantro) leaves, finely chopped
1 small scotch bonnet, finely diced (remove seeds if you prefer a milder heat)
1/2 teaspoon kosher salt
1/4 teaspoon black pepper
INSTRUCTIONS
Bake camote at 350 degrees for 45 minutes or until tender. Place in a bowl and let cool; peel and cut small dice. Set aside
Add 2 teaspoons of oil to the skillet over medium-high heat. Add corn kernels and 1/4 teaspoon salt, and cook until lightly golden, 3 to 4 minutes. Set it aside
Place avocados and lime juice in a large bowl. Using a pastry cutter or the back of a fork, mash avocados to your liking. Chunky or creamy, whichever you prefer.
To the bowl with the potatoes, add corn, red onion, diced tomatoes, culantro, scotch bonnet, salt, and pepper. Give it a stir. Taste for seasoning and add more if necessary.
*Note: batata is a firm and dry sweet potato with pinkish color skin with an off-white color flesh; it remains firm after cooking. If you are unable to find batata, substitute with red Garnet or Jewel yams – 1:1. However, keep in mind that they are moist rather than dry inside, so do not overcook. The other option is to use Yukon Gold potatoes, but since they have a higher glycemic index than sweet potatoes use half the amount in the recipe – 1:1/2
September 29th is National Coffee Day, so this is a Cafe Duran Coffee Rum Cake and Coffee Ice Cream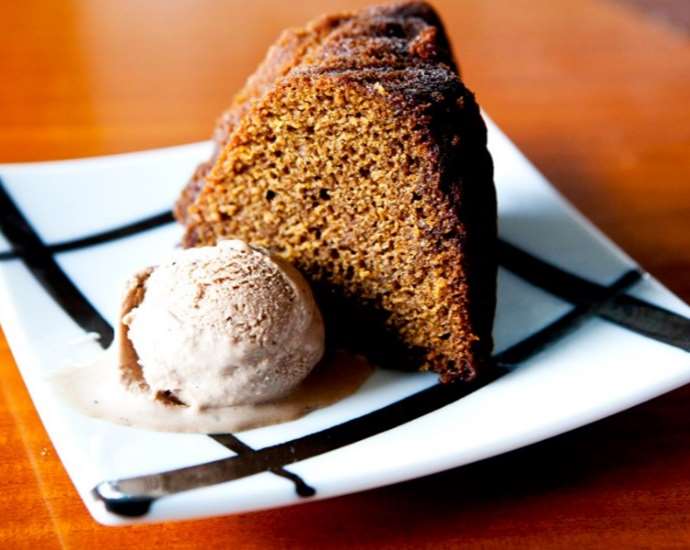 INGREDIENTS
2 cups AP flour
1-1/2 cups sugar
2 teaspoons baking powder
1 stick salted butter, room temperature
1/2 cup vegetable oil
1/2 cup strong brewed coffee, room temperature
2 teaspoons vanilla extract
4 large eggs, room temperature
1/2 cup golden rum (e.g., Ron Abuelo, Bacardi)
Syrup
1/2 stick (4 tablespoons) salted butter
1 cup sugar
1/4 cup water
3/4 cup golden rum (e.g., Ron Abuelo, Bacardi)
1/2 teaspoon vanilla
INSTRUCTIONS
To make cake:
Preheat oven to 325°F
Place flour, sugar, baking powder, butter, and oil in a mixing bowl and mix and medium speed until everything is combined
Beat in coffee and vanilla. Then add eggs, one at a time, followed by rum
Spray bundt pan with baking spray and pour batter into the pan; spread level with a spatula
Bake 50 minutes to 1 hour, until inserted toothpick comes out clean
To make syrup:
Add butter, sugar, and water to a small saucepan and stir to combine
Bring to a boil and then reduce to a simmer and cook for 10 minutes until syrup thickens slightly
Remove from heat and stir in rum and vanilla and set aside to cool
Poke holes all over cake and pour syrup over cake slowly, to soak the cake
Culinary Humor . . .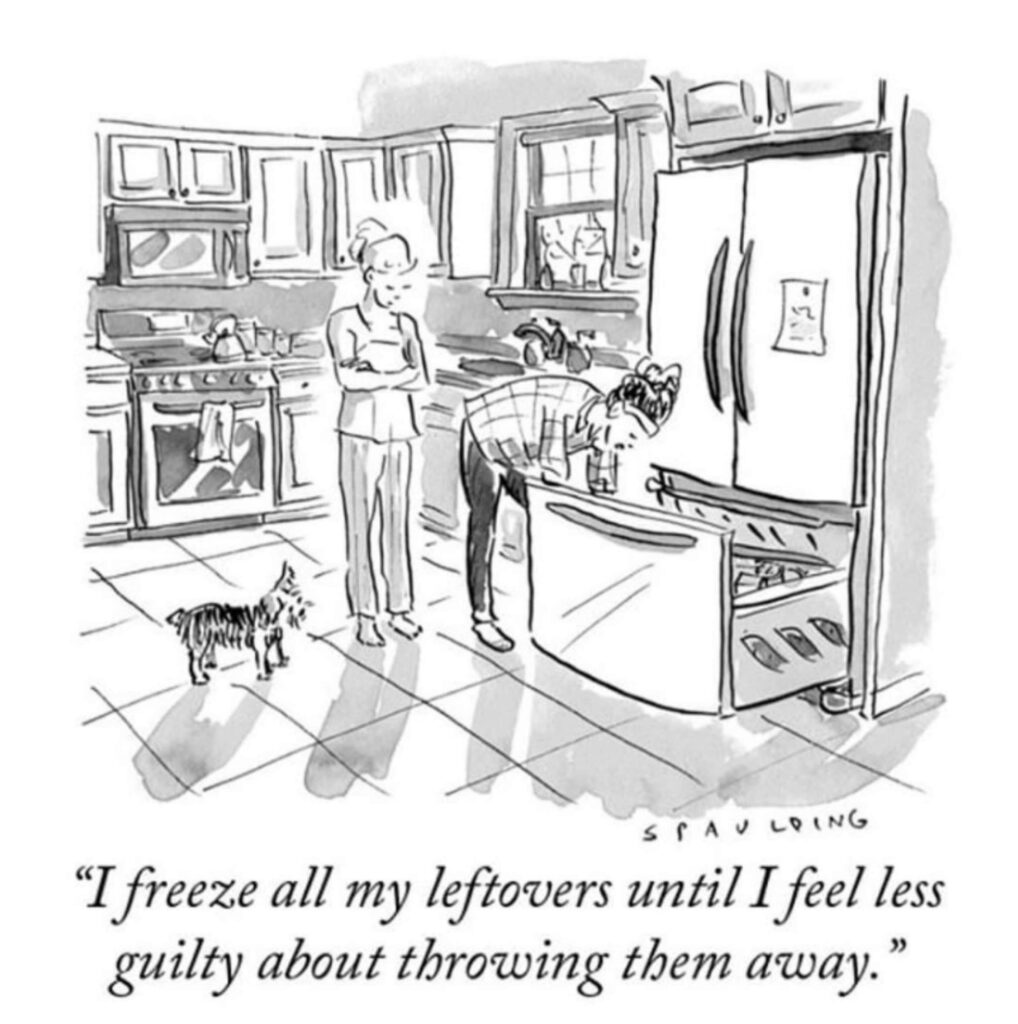 Tricos y Trucos…
This month's Tip: Freezing Food and Food Safety
Foods stored at O °F will always be safe. It inactivates any microbes (i.e., bacteria, yeasts, and molds) present in food, but the quality will suffer if stored too long in the freezer. Freezing preserves food for extended periods because it prevents the growth of microorganisms that cause food spoilage and foodborne illness. Once thawed, however, these microbes can again become active and grow at about the same rate as microorganisms on fresh food, so you must handle thawed foods as you would perishable foods. Raw proteins maintain their quality longer than their cooked counterparts because moisture is lost during cooking.

Proper packaging helps maintain quality and prevent freezer burn. It is safe to freeze meat or poultry directly in its original packaging. However, for prolonged storage, overwrap these packages as you would any food for long-term storage. Freeze unopened vacuum packages as is. If the package gets torn or was opened while the food is in the freezer, just rewrap it. Freezer burn does not make food unsafe; it merely dries in spots. But when that happens, just cut the freezer-burned portions away before cooking the food. Heavily freezer-burned foods should be discarded for quality reasons. The dulling of color in frozen vegetables and cooked foods is usually the result of excessive drying due to improper packaging or over­ lengthy storage in the freezer.

There are three safe ways to thaw food: in the refrigerator, in cold water, or in the microwave. It's best to plan ahead for slow, safe thawing in the refrigerator. Small items may defrost overnight, but large items like turkeys may take longer, approximately one day for every 5 pounds of weight. Once the food is thawed in the refrigerator, it is safe to refreeze it without cooking, although there may be a loss of quality due to the moisture lost through thawing. For faster thawing, place food in a leak-proof plastic bag and immerse it in cold water (if the bag leaks, bacteria from the air or surrounding environment could be introduced into the food). Check the water frequently to be sure it stays cold and change it every 30 minutes. After thawing, cook immediately. When defrosting food in the microwave, you must cook it immediately after thawing since some parts (i.e., outer/edges) of the food may begin to cook during microwaving.

After cooking raw foods which were previously frozen, it is safe to freeze the cooked foods. If previously cooked foods are thawed in the refrigerator, you may refreeze the unused portion. Freeze leftovers within 3-4 days. Do not refreeze any foods left outside the refrigerator longer than 2 hours or 1 hour, if the temperature is above 90 °F.
To view more Tips & Tricks
My Life This Month…
What I am Watching
Alex vs America
Supermarket Stakeout
Masterchef
What I am Working On
Working on publishing Esencias Panameñas' cookbook – PANAMA on a PLATE – coming Fall 2022
How Do I Make a Difference
Volunteering at the 'Capital Area Food Bank' assembling boxes of food for families in need, in the DC Metro Area
Testimonials….
"Todo fue excellent, todos quedaron encantado, muchas gracias. "[Everything was excellent, everyone was delighted, thank you very mch]

Angelina K
Lothian, MD
Subscribe….